I'm lazy, I mean, I have been lazy this week, feeling powerless to any blog efforts, which burdens my conscience. At least a bit.
I've been doing stuff for school this week, so I have been busy. Really.
So, this will be a short post, prolonging my ongoing laziness.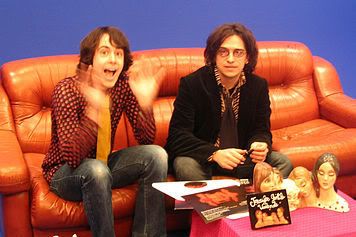 Italian psych folk indie duo Jennifer Gentle has a new record called The Midnight Room, which will be released via Subpop on June, 19th. Their kinda quirky music attracts me, because their name first made me think of either a singer-songwriter à la Feist or a indie lo-fi band such as Belle & Sebastian.
But I was wrong, still I'm fascinated. Though from Italy, they have a Southern American touch. Weird? No.
This album is the band's second album as a signed artist, following their debut Valende, which was released in 2004. You can preorder The Midnight Room right away on Subpop or via Amazon.

MP3: Jennifer Gentle - Electric Princess
taken from their upcoming album The Midnight Room

MP3: Jennifer Gentle - I Do Dream You
taken from their debut Valende

MP3: Jennifer Gentle - Universal Daughter
taken from their debut Valende

Have a nice week.