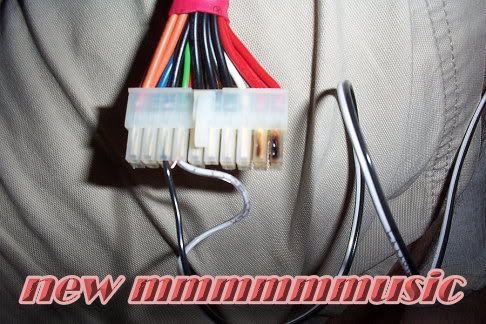 Seriously, I've renewed my sidebar, taking the easier side and reupped some new(or less new, whatever) albums that I think are wortht least three downloads if not the purchase of the whole record. There are some rather known albums, at least of those I have talked quite a while ago, like The Winter Sounds' Porcelain Empire(I've told you about them in this post), which is due in a month aswell as Help She Can't Swim, last time's post band. The Ponys, which I neglected at their release date some month ago but now really got into the album. Anyway, the point is, that I my guilty conscience bothered me so badly, that I wanted to lose at least two words about the albums.
But first, Dntel has a new remix on the website. It's cool and I HAD TO POST IT. Easy, seems it, but anyway. You may already know Dntel from his popular tune Umbrella or Dumb luck, which is also the latest Dntel album name.

zip: Dntel - Pump New Mix

see also Dntel's myspace.

Going on, Britain's lovely Black Wire have a new single coming up, called See The Blood/Brother We Had A Choice and will be released on May, 21th, means this Monday. To celebrate this, I first thought of posting the single, or at least one song of it, but then I changed my mind. I'd decided for two b-sides, who are qualitativly equal to the single songs.
Anyway, there you go.... and get all the tracks at HMV and have a look at their myspace.

MP3: Black Wire - Ungodly Hour
featured on the Hung Up Single

MP3: Black Wire - I Don't Feel Well
featured on the Smoke & Mirrors single

So, I'll mini-review the outstanding albums from my new music section:




Everybody's darling Interpol has a new album coming up, called Our Love To Admire, and I conclude right, that everyone knows about it, everyone has heard the single Heinrich Maneuver and probably thinks: Oh, another post about them.
Yes, it's another post about Interpol, but the band's awesome, the album's awesome and and and..... you get the point.
So, here's a track of their new album called Pioneer To The Falls ... Preorder the album through amazon, if you haven't already.

MP3: Interpol - Pioneer To The Falls
*myspace



Coming up next: The Ponys. Another most-blogged about album, but yet deserved so. I guess everything has been said about the indie pop band and their record Turn The Lights Out, so have a listen, go download some mp3s at emusic or order the cd here.

MP3: The Ponys - Maybe I'll Try



Next, even more blogged-and-hyped-about debut of Simian Mobile Disco. Well, I'm not hyping, but the album Attack Decay Sustain Release ist still pretty good.
I'll better stop this.
Go preorder it here.
*myspace

MP3: Simian Mobile Disco - It's Just The Beat
taken of the single It's The Beat



Last, but not least, Portugal The Man have a new record coming up(flooding everyone's myspace bulletins with this news), but my mind is still kept in their debut Waiter:You Vultures and I'm still mad at myself for not going to their concert last autumn. I mean, they're having a German tour this week, but due to a lack of money, a Portugal.the man concert will remain a dream. Damnit.
Here's a song from their debut, get any cds from the band on amazon.
For those who don't know yet, they're offering a free download at their myspace called Ruby Magic from their album It's Complicated Being A Wizard.

MP3: Portugal The Man - Guns...Guns...Guns

So, this has been a b-side dominated post(well, kinda) so I could just end this post with another b-side. If someone hasn't already noticed, I'm a huge Strokes fan, so the next step is pretty clear. Here's the b-side Hawaii live recorded at last year's Southside Festival.
Live and a b-side, I think this is really cool.

MP3: The Strokes - Hawaii/Live @ Southside Festival 2006

now, off to party.