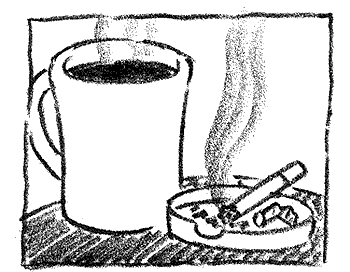 for once now, or maybe the next two weeks. I'm on vacation, or let's better say, two full weeks without finding excuses for not going to school. Nice, though.But I find it hard to enjoy all the free time, because my to-do list gets longer and longer and my reasons for avoiding the list are even getting wilder and more absurd. Basically, I'm doing nothing, except listening music, meeting some friends, finding new mmusic on the internet, but I just can't lose that strange taste of shallowness.
Well, now I'm sitting here in the sun, drinking coffee and bury my boredom with my first cigarette this morning.... I dunno, why I'm complaining. Could be worse.
Well, yesterday we've been to some birthday, uninvited of course, and it's hard to describe, but I've never seen such an amount of people so horny, dying to get laid, freaking out ona really boring party. We were actually pretty suprised, though watching them filled our evening entertainment. Amusing, for a moment, scary, then, so we disappeared quickly. I had to be the driver, so drinking was a no-go last night, so I headed to bed right afterwards, right in time for the rollback of the latest Dr.House episode.nice.