oh well, yeah, somehow my dancemood increases, I guess that has something to do with my being locked up here(my house) with only cigarettes and coffee as the only true pleasures. Yesterday evening(yes, it was Friday) I spent here, right in front of the TV watching Family Guy, because my friend and I couldn't make our minds up what to do.Well, watching Family Guy, as I reconsider, was still better than spending 11€ on a band, in whose concert the possibility to fall asleep is pretty much guaranteed.
So I just enjoy smoking and watching out for mmmmusic.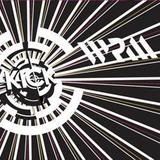 So, The White Rose Movement came just at the right moment. I could now pull off some band comparisons, but my chances to completely embarrass myself are extremely high, so I just leave it with a comment: Cool electro-psych-thingy, crazy enough for me, good to keeo me alive.
MP3: White Rose Movement - Girls in the back
the track is featured on the single, and also on their debut album "Kick", which should be bought at Roughtrade.