oh well, another year is over(still it's not New Year) but, again: Easter?
But my sister and I decided to celebrate this holiday, with our own special features. We even tried to hide stuff, so the other one has to go and search them. Childish? Yeah, maybe. I've done my search sofar and got my car keys. Yess! Niice.
Well, time for cigarette, I guess.
MP3: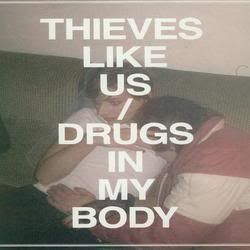 and finally, as I'm toxicating my body with coffein and cigarettes, Thieves Like Us have just the right words. They're not that up-tempo, whateva like White Rose Movement, a bit more relaxing, although still electro/synthie somethin.
MP3: Thieves Like Us - Drugs In My Body
MP3: Thieves Like Us - Fass
go on listening here.

Oh yeah, I've watched "The Rocky Horror Picture Show" last night with some friends, and by the near end of that movie, I was clearly all in a fluster. I think, that now, this morning, I regained all my mind abilities. Thank God.