So I'm back after a week full of bands, music, rain and no time for blogging, for which I feel really sorry. Actually I shouldn't spend my time blogging, because my finals are only a few days ahead and the stuff I should be learning hasn't quite made it into my mind.



The Cribs - The White Stripes - Muse
some first impressions of Rock Im park 07

Anyway, how has been my festival weekend? It was very hot, very wet and absolutely f'ing amazing! I wasn't able to see all of the bands I've listet last week due to physical weakness, but it was f'ing awesome anyway. Especially the Muse concert was over the top. I'm such a huge sucker for Muse as I am for The Strokes, so I was completely freaking out by every song they played, every move that Matt Bellamy did on stage and every guitar solo he played(and those were quite a few). The Cribs have been freakingly amazing, too, at one o'clock in the afternoon, only 30-40 people around, having space to dance and jump, it was almost incredible. I recall the Kaiser Chiefs to have made a very entertaining show such as German rock band the Beatsteaks(for those who don't know about them, check out a concert) aswell as Mando Diao and The Fratellis. The only band that merely disappointed me were The White Stripes. What, The White Stripes???, you may be thinking, utterly shocked. Yes, their show was boring, unnerving.....- or maybe I was too exhausted or had too high expectations, I dunno. It simply wasn't as good asa medium White Stripes fan that I am would have expected.
Anyway I found two other exciting b-sides, whatsoever in my iTunes-library that I haven't posted last week for to me unknown reasons, so I'll do it now:
MP3: Kaiser Chiefs - Sink That Ship
taken from the I Predict A Riot Single
MP3: The White Stripes - Screwdriver


Anyway, it has been a very fun weekend, being happily distracted from my upcoming finals and the following mind-destroying partys afterwards. I should start learning right now, but: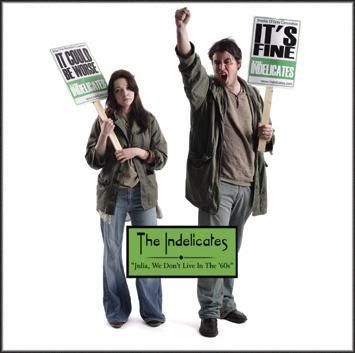 .... I can't let you go without something new or at least interesting to listen to.
The Indelicates have a new single coming up, called Julia We Don't Live In The Sixties.
You may know this band from their popular tune Waiting For Peter Doherty To Die with it's rather dodgy content and unexpected fame.Even though the band's opinion about a certain drug addict's right, I just can't get along with that song. So much the better they have other superiorly songs than the one above. Julia We Don't Live In The Sixties is one of them, aswell as Sixteen. Their sound lingers between straight indie rock, gospel and scottish patriotic theme likewise tunes, which makes it more unique than I first thought. The band had a German aswell as a UK EP release in January called The Last Significant Statement To Be Made In Rock and Roll which can be purchased here. I'll tell more about the single releases, when there are more information about it to be found.
So what there's left to say? Oh yeah, wait:

MP3: The Indelicates - Julia We Don't Live In The Sixties

MP3: The Indelicates - Sixteen

MP3: The Indelicates - Our Daughters Will Never Be Free

MP3: The Indelicates - Last Bombed City

MP3: The Indelicates - The British Left In Wartime

for more free The Indelicates mp3 check here.
website - myspace



- last night out I got asked if I were dressed as a Paris Hilton convict lookalike.
Oh dear.
I'm speechless.