what is now, that makes me want to post every statement, that pro-communist, post-punk-but-still-dancy- The (Int.) Noise Conspiracy wrote in their Smash It Up video. Maybe the fact that they have a new album coming up soon and I'm more than excited. I'll let you know, as soon as possible.


So now, what? I've got some album reviews for you and I couldn't be more amazed.
Starting off with my favourite german indie pop band The Robocop Kraus. I'm kinda surprised that, according to the hype machine, nobody(except me) has made an effort to post about them and their great new record. Blunders & Mistakes was released here in Good Ol' Germany last Friday, but I don't know about other countries.
So how is Blunders & Mistakes? For starters, it's cool, fun and more pop than ever in the Kraus history. Other than its forerunner They Think They Are The Robocop Kraus, which was abuzz with electric, dancy keyboard sounds, who forced the listeners to get up and shake yer bootie.... anyway, this record is more on the pop road, kinda like a happy, non-melancholic Belle & Sebastian. Furthermore, at some stages, a strong Maximo Park ressemblence comes up, such as songs like Snake, Standing In The Punchline or the theme song Blunders & Mistake. But variety is definetely give on this record for songs such as Erase The Pain, that differs from the whole album.
So, all in all, is it really better than their fabulous record They Think They Are The Robocop Kraus? No, it's different, kinda slowed down, but good in its own world of indie pop, new rave, synth and happiness.
To give you an impression, from Blunders & Mistakes:

MP3: The Robocop Kraus - Snake
MP3: The Robocop Kraus - BLOOD ON THE PULLOVER

so, get up and get it @ amazon.

and from They Think They Are The Robocop Kraus:

MP3: The Robocop Kraus - After Laughter Comes Tears

MP3: The Robocop Kraus - In Fact You're Just Fiction

ok, what's next. Pete Doherty and his fellowship called Babyshambles have a new album. I didn't listen to it yet, I don't now and I don't plan to do so in near future. Just so we're clear.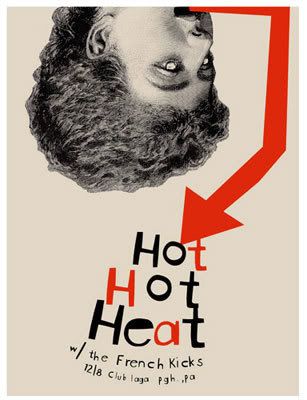 Besides Hot Hot Heat have a new record out, called Happiness Ltd. I could spend now an eternity trying to figure out how the album title could be interpreted, but we should skip that and get right to the record itself. After having released their sophomore album Elevator a couple of years ago, this one is the 'important' third one. Well, it doesn't differ that much in style from Elevator, but some of the lyrics are more melancholic, with songs such as Give Up?. The singers voice is still kinda quirky, the songs are still addictive, the band still sounds very british(even though they're from Canada, but that's no bad thing tho') so, yeah, it's niiiiice, I like it.
Go and buy it @ amazon.
so, from Happiness Ltd. :

MP3: Hot Hot Heat - Give Up?

MP3: Hot Hot Heat - Harmonicas & Tambourines

and from Elevator:

MP3: Hot Hot Heat - Jingle Jangle

MP3: Hot Hot Heat - Middle Of Nowhere

well, because I'm in a quite a good mood and willing to upload, I have some more bonus tracks for you.
Have Fun!

MP3: Five! Fast!! Hits!!! - I'm a mugwump
MP3: Nick Drake - Way to blue (Family Tree Version)
MP3: White Rose Movement - Love Is A Number
MP3: Stars - Window Bird
MP3: The Weakerthans - Civil Twilight

get the tracks @ amazon or iTunes.

and, coming to mail I've been getting:


Plushgun sent me something very nice about a week or so(my memory is really, really bad). It's kinda synth, electro-indie and if you're residing in NYC you should go and visit his show there on Sept, 27th @ The Bitter End.

MP3: Plushgun - Just Impolite

Well, you can see, that I'm either enjoying my free time or that I'm just pretty bored.
Anyway, have a nice monday.