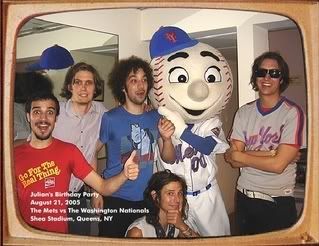 yes it's my birthday today and I'm turning 20, which is quite a weird age to turn into. I mean, I don't feel any better or mature, now that I don't have any longer a 1 before my age, but that was actually the same as I turned 19, which was, surprisingly, one year ago. I hate having birthdays in autumn, because it's rainy, which is depressing, and there should be nothing depressing about what I call a national holiday.
Anyway, I thought about doing a birthday mix with songs that I really, really like(eg The Strokes, The Cribs, The Hives, Muse, The Whip, The Kinks, Shitdisco etc), but, unfortunately, I still don't have internet in my appartement and the connection in my university isn't, erm, stable enough to upload any mp3s.
So, I'll just head to my class which starts in a few minutes and leave you with this cool remix of a band named Cazals - I think I posted them in a mix a few days ago, but my memory is really bad - and the remix is from Chris Barker, who'd sent me this yesterday.
So, have a nice week.

MP3: Cazals - To Cut A Long Story Short (Xtopher fiction mix)

- Oh, and I settled for a Strokes picture, because if I can't have a Strokes mp3 on my blog on MY birthday, than at least a damn photo!