-->The Dead Bohemes
says the Kulturpalast description.
My opinion: Yeah, somehow, they're right. The Dead Bohemes, do sound similar to my favourite band. Somehow, Germany itself managed to give the indie-scene an excellent rock band. Hard to believe, because Germany, from my point of view, can barely win an award concerning good indie-bands(excluding The Robocop Kraus, of course). Well, the quality of their songs on myspace isn't the best, but I'll look for something better on the internet, as soon as the A-Level will be over(Tomorrow!!!). However, I like the indifference, that the songs display,especially the voice, just likeThe Strokes have in theirs. Of course, this new band cannot reach up to the worlds-best rock band(yeah, they are!), but one has to see the things a bit more optimistic.
I think, this will be fine for a live gig.
This can only be a good sign, because them plus three other bands will be coming to Wiesbaden in about three weeks to the Fastbreak Festival II in April, 14th(-> see Live Eventualities).
Seems like another opportunity to spend the money, that i actually don't have, but can't hold me back to not give it to poor, little indie-bands.
yeah, I'm really looking forward to them.


anyway, I have a new compilation, I'm mixing my playlists lately, so tomorrow there'll be a 'new' one, too, I guess.

Beirut

- Mount Wroclai(Idle Days)

Beirut

- After The Curtain

The Brian Jonestown Massacre

- Going To Hell

The Brian Jonestown Massacre

- Not If You Were The Last Dandy On Earth

The Brian Jonestown Massacre

- Monkey Puzzle

The Cribs

- Mirror Kissers


The Cribs

- You're Gonna Lose Us

Feist

- Let it Die

Feist

- Mushaboom

The Maccabees

- About Your Dress

Mogwai

- Nick Drake

Nick Drake

- One Of These Things First

Patrick Wolf

- Tristan

Peggy Lee

- Fever

Peggy Lee

- Fly Me To The Moon

Sonido Total

- The Pinker Tones

The Sunshine Underground

- Put You In Your Place

The Sunshine Underground

- Commercial Breakdown

The Thermals

- Nu Culture Icons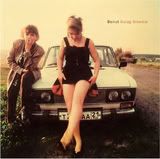 Plus, I have two mp3s from Beirut:
Beirut - Postcards from Italy-> mp3

Beirut - Mount Wroclai -> mp3